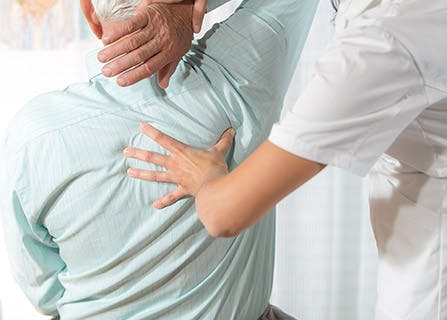 How to treat Back pain in elderly?
Treatment
Short term treatment using therapeutic modalities and with the help of physiotherapists have been seen to be helpful in reduction of pain and edema.
Precautions
Use of supporters while travelling long distance and during prolonged sitting. Hydration levels to be maintained along with nutritional levels, specially minerals and vitamin D.
Exercises
Stretching and strengthening exercises for lower limb and back muscles. Activity sports like swimming, aerobics, weight bearing etc.
This article has been authored by Dr. Ridwana Sanam in her personal capacity. The views and opinions expressed in this article are the author's own and do not reflect the views of GlaxoSmithKline Pharmaceuticals Ltd. Please note that no part of this website content is intended as medical advice. Kindly visit your doctor for diagnosis and medical advice for your knee problems/pain.
References:
1.Textbook of Orthopedics by J Maheshwari
2.Therapeutics Exercise- Foundations and techniques by Carolyn Kisner and Lynn Allen Colby
3.Muscle testing and Function with posture and Pain by Florence Peterson Kendall